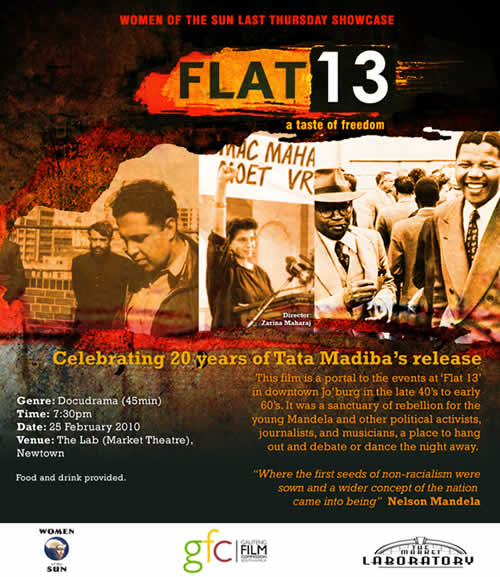 Having earlier completed the Professional Program in screenwriting at UCLA's School of Theatre, Film and Television (TFT), where she was nominated for UCLA's coveted Nate Wilson Award for Screenwriting for one of her student scripts, Zarina in 2017 also completed the screenwriting bootcamp at the National Film and Television School (NFTS) in Beaconsfield, UK.

Preceding that, her 3-minute documentary - made during a 4-day bootcamp in San Francisco on documentary film-making and called 'The Lost Souls of San Francisco' - was selected from the bootcamp entries for uploading to YouTube, where it can be viewed.

Next, her historical docudrama 'Flat 13' - written, directed, produced and narrated by her on a shoestring and edited by cinematographer and editor Steven Cholerton - was showcased at the 2009 Durban International Festival (DIFF) jointly hosted by the Berlin International Film Festival and the Durban International Film Festival (DIFF) - where it was screened twice at The Suncoast NuMetro cinema by public demand, alongside the films of celebrated film-makers, later being nominated that same year for Best Director at China's 10th Sichuan International Film Festival out of 3962 entries from 62 countries. When the US's PBS TV channel then sought to screen it to US audiences, ETV/eNCA, where Zarina was a full-time staffer, refused to grant PBS permission to do so, as the docudrama was the last interview President Nelson Mandela – who'd frequented Flat 13 as a young man - was prepared to give on camera, a scoop ETV still now, in 2020, jealously covets.

This despite President Mandela having repeatedly declared,in his autobiography 'Long Walk to Freedom' too, that 'Flat 13 is where the first seeds of non-racialism were sown and the concept of a nation came into being'.

Currently still distributed internationally on behalf of ETV by 'Off the Fence', based in Amsterdam, 'Women of the Sun', an international organisation encouraging and promoting women film-makers in Africa, has screened the film at downtown Johannesburg's popular Market Theatre to a packed group of youth across SA's racial spectrum, who in the post-screening discussion admitted they'd previously known nothing of Flat 13 and the group of young freedom activists across race and class that it attracted - including the then 22 year old law student Nelson Mandela - when his fellow law student, Ismaio Meer, and the teenager Ahmed Kathrada, were the tenants of that flat. This group would often dance the night away as they debated the path to a future nonracial South Africa, young men and women fearlessly defying apartheid's laws forbidding inter-racial social and political gatherings.

They were to become leading artists, musicians, writers and politicians in SA, and included, to name a few others, Walter Sisulu, Nadine Gordimer, Ruth First, Sophie de Bruyn and Hugh Masekela.